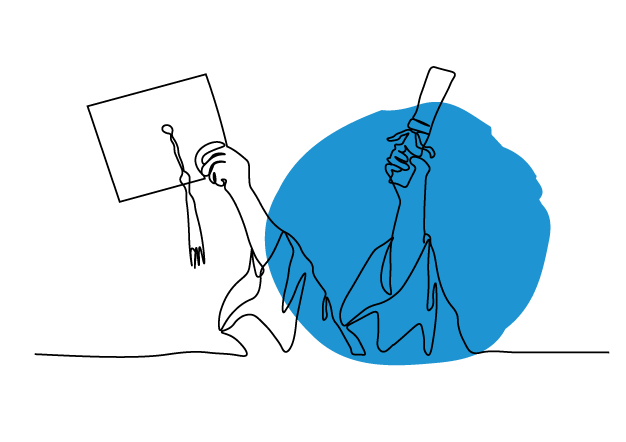 A passion for learning. A strong academic record. And the desire to improve the world as you experience it. If this sounds like you, you just might be our ideal candidate! The admission process starts with filling in a five-minute inquiry form – complete it now – you never know where you might end up. 
Step 1:
Book an online meeting
The best way to start the admission process and to find out what makes Verita International School special is to meet the founder during an online meeting and get the vibe of the school by watching the video presentation. We will happily arrange for you to meet us.
Step 2:
Application
If you are ready to embark on this journey and register your children to Verita, you will need to create an account on our platform and start your registration process.
In order to submit your application you must fill out the application form on our platform and upload the following supporting documents:
Child's Birth Certificate;

Copies of parents' IDs (either identity cards or details page from passport)

Transfer Documents – Evaluation Card / Report from the previous school;

Medical Certificate – Epidemiological Opinion
Step 3:
Entrance Assessment / Interview
Children are often invited to spend a test day at school or to come in for an assessment and an interview.
Primary-aged children will be assessed using a variety of age-appropriate tools including oral interviews and oral reading as well as reading comprehension tests and writing samples where appropriate. The purpose of this testing is to help determine the nature of any support needed. It is not an entrance exam leading to entry to the school.
In the Secondary School children must have a high level of English and Mathematics proficiency to access the curriculum and to successfully graduate therefore  Verita has increasing expectations for Mathematics and English proficiency with each year of Secondary School.
Step 4:
File admission and final acceptance
Once the file is completed it will be reviewed and evaluated and if needed further testing or documentation will be required.
After the evaluation has been made and a place has been confirmed, the next step is to have the registration fee paid; this reserves and confirms the place in school.
Year placement is based on the student's age (i.e., date of birth), and past records, in addition to the results of his/her interviews and tests, as explained in the admission process hereafter.
A waiting pool of applications will be created if a class is full. Verita will draw from this pool based on a priority guideline and on a review of all applications to determine those students we feel can best benefit from a Verita education.
The Director may make exceptions, within one year, to these requirements based on previous educational experience.
The school will not normally accept any student who would be over the age of nineteen at the time of graduation. This age limit reflects both the social and emotional needs of Verita's students and the recognition that an IB Diploma cannot be granted to a student over the age of nineteen.
| Age | Year UK system | Grade RO |
| --- | --- | --- |
| 2y6m (On September 1st) – 3y11m | Nursery | Cresa |
| 4 | Reception | Gradinita |
| 5-6 | Year 1 | Clasa pregatitoare |
| 6-7 | Year 2 | Grade 1 Clasa I |
| 7-8 | Year 3 | Grade 2 Clasa a II a |
| 8-9 | Year 4 | Grade 3 Clasa a III a |
| 9-10 | Year 5 | Grade 4 Clasa a VI a |
| 10-11 | Year 6 | Grade 5 Clasa a V a |
| 11-12 | Year 7 | Grade 6 Clasa a VI a |
| 12-13 | Year 8 | Grade 7 Clasa a VII a |
| 13-14 | Year 9 | Grade 8 Clasa a VIII a |
| 14-15 | Year 10 | Grade 9 Clasa a IX a |
| 15-16 | Year 11 | Grade 10 Clasa a X a |
| 16-17 | Year 12 | Grade 11 Clasa a XI a |
| 17-18 | Year 13 | Grade 12 Clasa a XIIa |
20 Frequently Asked Questions
1.WHAT ARE THE STEPS WE TAKE FOR A CHILD'S ADMISSION?
Complete this form to get in contact with our Admissions Department and book a tour of our school or contact us by email (admissions@verita.ro ) for any questions or by phone at 021 311 88 11.
Make a tour of the school and provide the following supporting documents
Complete the online application form.
Child's Birth Certificate;
Copies of parents' IDs (either identity cards or details page from passport)
Transfer Documents – Evaluation Card / Report from the previous school;
Medical Certificate – Epidemiological Opinion.
The Admission Officer will contact you by email or phone to confirm admission or to request further documents if needed. Your child may also be invited for an assessment and interview.
Pay the Application fee (non-refundable and paid when submitting the application file): 50 Euro
The next step after the evaluation has been made, and the place has been confirmed (depending on the availability at that time) is to have the registration fee (1000 EUR / child) paid, which also reserves the place in the school.
Any other aspects related to the admission process will be discussed with our Admissions Manager.
2. HOW MANY PUPILS DO WE HAVE AT VIS?
Currently, we have 475 pupils enrolled at VIS, of which 40% are international students consisting of 22 different nationalities.
3. HOW MANY PUPILS DO WE ACCEPT IN EVERY CLASS?
Class Size: The maximum class size is 18.
At the Director's discretion, the school may exceed this class size by 2 considering that the school can provide both a large enough classroom and appropriate support for the classroom teacher.
4. WHAT IS THE LANGUAGE WE TEACH OUR SUBJECTS AT VIS?
English is the language of instruction at Verita. This means educational programs are taught in English from Early Years through Secondary School. English is offered as a subject of study in the curriculum.
5. CAN A CHILD WITH NO ENGLISH BE ADMITTED?
If your child is applying for grades EC2 – Year 2, English language proficiency is not a mandatory condition. However, if he/she is applying for Year 3 – 10, their English level will be assessed.
6. ARE THE TEACHERS NATIVE ENGLISH SPEAKERS?
Verita's international teachers are required to have an Academic Degree(s) in Education with a valid teaching certificate/license and at least two years full time classroom teaching experience. Verita's Romanian Teachers are required to have an Academic Degree(s) in Education, with at least 2 years of full-time classroom teaching experience, preferably in a UK, US, or international school setting.
At VIS, approximately 50% of staff are international teachers.
7. AT WHAT AGE MY SON/DAUGHTER CAN BE ENROLLED AT VIS?
Our programme starts at Nursery for children aged 2 years and 8 months or older on September 1st.
8. WHAT IS YOUR AGE CUT OFF DATE?
Age cut off date is September 1st.
9. WHEN DO I HAVE TO ENROLL MY CHILD FOR THE NEXT ACADEMIC YEAR STARTING IN SEPTEMBER?
We offer our students the chance to re-enrol in February. New enrolments can be made at any time throughout the year depending on the availability of the places in school.
If there are no places available your child's file will be placed on the waiting list and will be processed after the re-enrolment period has finished.
10. DO YOU ACCEPT STUDENTS WITH ADDITIONAL LEARNING NEEDS?
We can integrate a limited number of students with additional needs per class in order to maintain the highest standard of care.
The Learning Support team at Verita School coordinates programs and services for students with additional needs, based on the DIR/Floortime model. This developmental model offers a holistic child approach, taking into account their individual differences and fostering emotional connection through relationships.
11. DOES THE SCHOOL HAVE A LUNCH PROGRAM?
AT VIS we offer our students lunches and snacks that are cooked by our personal chefs and are 100% Certified Organic and Bio.
12. DOES THE SCHOOL HAVE A BOARDING FACILITY?
VIS does not have boarding facilities.
13. DO STUDENTS WEAR A UNIFORM?
VIS students do not wear a uniform, however, we use specific clothing for our PE classes.
14. DOES THE SCHOOL OPERATE A BUS SERVICE?
Transport will be arranged at an additional cost.
15. DOES THE SCHOOL OFFER AFTER SCHOOL ACTIVITIES?
Verita International School offers quality after-school workshops expanding learning opportunities that support developmentally appropriate cognitive, social, physical, and emotional outcomes. All our afterschool programs run directly after school at 4:00 pm and end at 5:00 pm. See more info here.
16. HOW OFTEN DO WE ISSUE REPORT CARDS?
Report Cards are sent home at the end of each semester. On the reports, each core subject is divided into learning outcomes based upon National Curriculum standards that form the core of the curriculum. They also write comments about student progress. Student dispositions are reported separately from academic criteria on the reports.
17. HOW MUCH HOMEWORK DOES A CHILD GET?
At Verita we believe that regular, modest amounts of homework are an important element of improving student learning and developing the skills and attitudes that will support our students in their continued education as well as the personal initiative required in adult life.
18. WHAT ARE THE TESTS CHILDREN TAKE AT VIS?
At VIS we use the ISA examination to determine a student's instructional level and to measure academic growth from year to year in the areas of Mathematical Fluency, Reading and Writing. Verita offers the ISA to students in Years 4 and above.
ISA tests are administered in the Spring and results are sent home at the end of the academic year.
20. WHERE DO STUDENTS GO AFTER FINISHING THEIR STUDIES AT VIS?
After finishing their studies at VIS, students generally choose to attend universities in the UK, Europe, or the United States however students who prefer to continue their studies at a Romanian university are able to do so. Our diploma offers access to universities all over the world.
Ready to send your child on
the learning adventure of a lifetime?
We develop your child's talents, build friendly relationships in a safe environment, and make learning enjoyable. Verita is the best fit for you if you believe that your children are part of a generation that needs to be independent, creative and ready for the world.