About our Educators
Our educators are highly skilled Foreign and Romanian teachers that are required to have an Academic Degree(s) in Education and at least 2 years full-time classroom teaching experience.
Through a rigorous hiring process, we evaluate educators across four areas of professional practice standards that align with the VIS approach.
Application information and background
We interview most staff on more than one occasion to ensure we have thoroughly inquired about their past endeavours and personal values, driving force and passion. After this stage we then explore and cultivate the following areas:
Empowering Educators
Once we hire exceptional educators, we empower them to facilitate the best education possible for your children.
Educators are supported by
A creative and constantly innovating development model of events and trainings
Opportunities for professional growth and development
The flexibility to create meaningful experiences for their students
A professional learning community from which to draw and share best practices
Employment
If you want to work on our amazing team of world-class educators, or be a part of the administration of staff of the school, check out our open positions below.
Richard Joannides
Founder of Verita 4 All Foundation
Richard graduated from Loyola Marymount University – Los Angeles, California with a degree in Early Childhood Education Master Degree from Oxford University in History. He has traveled and studied around the world: Los Angeles, Loyola University Rome, Marymount University Bonn Germany and Oxford University – Queens College.
Richard grew up in Los Angeles, California and Athens, Greece. As a full-time father of three boys, Richard is passionate about children and education and has been working for the last five years as a teacher and Director of Social Emotional Learning. Richard is also a play therapist with young children diagnosed with cancer at the Fundeni Hospital. He has over 10 years of experience with Mindfulness Parenting and teaching.
Verita 4 All Foundation
Our main focus is on Children Educational Programs for orphans and underprivileged families. Education is one of the single most vital elements in combating poverty and our goal is to freely offer and train teachers around the world with the SEE Emory University Curriculum. Other important projects include: Helping children with cancer, the Elderly and Hospice Centers. www.veritafoundation.ro.
"We cannot do great things on this Earth, only small things with great love" (Mother Theresa)
Damian Ward
Superintendent of Verita Group of Schools
Damian originates from Coventry in the United Kingdom. He has an honours degree in English with Qualified Teacher Status from the University of Warwick and he also holds a National Professional Qualification in Headship (NPQH). His teaching career took him all around the West Midlands where he was previously a head in a small primary school with 210 students and then Head of a much larger primary school of over 600 students.
He has a very clear sense of purpose and the necessary determination to make that a reality, he wants every child to truly enjoy learning – a key skill we need to pass onto our children. His special areas of interest are in the development of language and Mathematics. He passionately believes in challenging and supporting the staff at Verita to ensure that the quality of teaching and learning improves year on year.
Most importantly he sees his role to enhance the Verita curriculum, celebrate the successes and achievements of students and staff and truly raise aspirations in the whole community to strive to 'be the best that they can be'. Every person is precious in his eyes, their talents and gifts are there to be honed and improved upon so that they can truly achieve their dreams.
Lila Vasilescu
Dean of School
Lila has a long passionate history with the development and growth of the school and of our nonprofit organization, Verita Foundation.
She is an authentic, living, breathing example of the values, mission and vision of Verita and a vibrant advocate of keeping Verita true to its word and promise. For years, she has been a pivotal bridge builder and support for the community of parents, teachers and students.
As co-founder of our Verita Foundation, she has launched in 2020 CERC – Compassion in Education Resource Center, a resource platform for social-emotional and ethical learning which is intended to share our school's valuable SEL knowledge, results and resources with educators in the Romanian public educational system.
She is a certified trainer with an SEL ( Social Emotional Learning ) course certification from Rutgers University, USA and a Mindfulness Teaching certification from Mindful Schools in the USA.
Lila is also certified by Emory University, USA as an SEEL ( Social, Emotional and Ethical Learning) facilitator.
She is also a mother and believes in the power of kindness, trusting people's ability to find inner balance and joy of living and she wishes to contribute to a kinder, more compassionate world for our children and for us all.
Rico Chow
Principal of Secondary
Rico originates from Toronto in Canada. He holds an honours degree in Literature, Anthropology, and Education. He is currently undertaking a Master of Education in Educational Leadership and Policy at the University of Toronto.
Rico has spent the last several years teaching abroad. Prior to joining Verita, he was teaching Language & Literature and Humanities at an IB World School in Muscat, Oman at the secondary level. It was here where he refined his inquiry-based approach to learning through the IB framework. Rico also served as an Extended Essay supervisor for DP students during his tenure in Oman.
But the roots of his inquiry-based approach began during his formative teaching years back home in Toronto at an IB school. During his time here, Rico worked extensively with the Ontario curriculum in conjunction with the IB which fostered his passion for inquiry-based approach to learning.
Since joining Verita in 2017, Rico has focused his efforts in developing the secondary school's curricula (IMYC, iGCSE & IB DP), assessments, best teaching practices, culture, and collaborative learning communities. Rico's philosophy as an educator and leader is grounded in relationships and being culturally responsive. In essence, he believes that fostering positive relationships with students, parents, and teachers as well as being culturally responsive are the key to a school's effectiveness and improvement. "
Annie Keep-Barnes
Principal of Primary and Early Years
Annie is a longtime educator. It's been her great good fortune to teach almost every level of school over the years, all the way from grade 3 through to University. I have enjoyed teaching every year group.
In addition to teaching, she has also been a school leader. Together with three friends, she started the first charter school in the state of Alaska and she went on to found and direct an alternative middle school/high school. She has also served as principal in several schools in Alaska and as a mentor principal to new principals.
Julie Dinca
Assistant Principal of Primary & Early Years
Julie (or Iulia) was born and raised in Bucharest, Romania. She graduated from the University of Bucharest, Faculty of Foreing Languages and Literatures with a double degree in both English and Spanish. She also holds the Certificate for Teaching from the Teacher Training Department of the Faculty of Psychology and Educational Sciences.
Julie joined Verita in its first year and has seen it grow and flourish into an amazing school that values kindness, inquiry, project-based learning and innovative teaching. Julie is a tech enthusiast and as a technology integrationist, she has tried to enrich and support teaching and learning while strengthening the technology skills of students, staff, and the community. She is a Google Level II Certified Educator and carries a certificate of Leadership of Educational Technology in Schools.
Julie values the relationships between students and teachers, between teachers and parents and between all the staff and considers them to be the foundation of great teaching and learning. She is passionate about gamification, mindfulness, social-emotional and project-based learning. She has always enjoyed learning, and she is determined to inspire students to love learning and to pursue their naturally curious minds through her teaching.
Irina Cazacu
Assistant Principal for Secondary
Irina was born and raised in Bucharest, Romania. After more than 13 years working in the mobile telecommunication industry, in 2012, Irina moved to Saudi Arabia, where she worked as a Teaching Assistant at the British International School of Al Khobar, where she realised her passion for working with young children. In the summer of 2017, she and her family were relocated to Romania and joined Verita school.
Her teaching experiences range from nursery through year 2. She strongly believes that early childhood education is vitally important to prepare children not only for school but for life. Helping the children to reach their individual milestones and working closely with families is why she loves working in Early Years.
To bring balance to her life, Irina enjoys swimming, reading, coffee with friends, and travelling.
Gabriela Simionescu
Co-Founder
Gabriela graduated Languages from the University of Bucharest and worked for 1 year in a state school. Then she founded a private English Kindergarten and taught over 220 children English, Math, History and many others for 32 years. Her life went through schools, marriage, 1 son, lots of hobbies (reading, music, sports, travel, theatre, film, languages, sewing) and, lately, 2 lovely granddaughters. In 2014 Gabriela joined Richard in this beautiful project called Verita International School, a dream that she had for a long time… So she continues teaching with passion, in a new environment. Continuity and change!
Roxana Din
EYFS Coordinator
Roxana graduated from the University of Bucharest with a BA in Foreign Languages (English – Italian) and an MA in English Linguistics part of which she has done at the Ca'Foscari University in Venice, Italy. During college she worked as a volunteer teacher at various NGO's and as an Educational Therapist at a centre which offered educational and psychological assistance to children with learning disabilities such as Dyslexia or Specific Language Impairment.
Her desire to get involved in education and especially in emotionally based learning stems both from her own experience as a student/learner and from her observations of the methods children use in order to acquire certain information. She strongly believes that children need an environment which would allow them to express their needs and feelings, to know themselves in order to be able to absorb information from the outside. They only need guidance and a lot of understanding.
Adina Costea
EC 1 Teacher
With a caring and approachable nature, Adina has more than 18 years of experience as a teacher, a Degree in Early Childhood and Primary Years, and a Bachelors at Babes Bolyai University. She is known as Adina Albina by an entire community of parents and children, as she is always making sure that her classroom is the ideal environment for learning, and her main focus is ensuring the social and emotional growth of the child.
The other half of her is a passionate illustrator, a talent that she uses to mix art, joy and learning not only in her classroom, but also at her extracurricular workshops.
"Hello friends!" is her morning salute to the young children of her classroom and "enjoy the little things" is her motto.
Laura Ivanov
EC 1 Co-Teacher
Laura has a Bachelor Degree in English and History and also holds a Certificate for Teaching Profession, from the Teacher Training Department and a TKT Young Learners Certification. She discovered her passion for teaching young children as a student and she worked as a Secondary and High School teacher in a state school for 3 years and has 5 years' experience in working with young children both in state and private kindergartens. She believes in teaching with kindness, patience and joy.
Roxanne Dela Cruz
EC 1 Teaching Assistant
Roxanne was born and raised in Manila,the Philippines.Her great passion is interacting with children so her studies are in the Education field. She worked for 5 years in Singapore, taking care of children, playing with children and teaching children. Being an assistant teacher in Verita International School and working in the Early Years setting is a dream come true.
Irina Safta
EC 2 Teacher
Irina was born in Bucharest, Romania, but travelled the world due to her parents' career as diplomats. This provided her a rich, diverse and multicultural education. She moved to Canada when she was in high-school; there she graduated from Glebe Collegiate Institute and later from Algonquin College from Ottawa.
Irina's passion for children began from a very early age. Her first job right out of high school was as a part-time Kindergarten teacher in Ottawa, Canada. She then moved on to Teacher's Assistant in Primary School in Ottawa, Canada.
Mihaela Andrei
EC 2 Co-Teacher
Born and raised in Bucharest, Mihaela has been part of the Verita Team for four years already. She has always been interested in the wellbeing of children and keen to discover their unique world. Therefore she followed the path of education after her son was born and specialised herself in this domain. She has a Certification for teaching profession, a specialised education certificate, Attachment and Early Childhood education course, First Aid course and Child Safety course.
She also used to live in Jersey Channel Island, UK and could get a glimpse of british life. Her Master and Bachelor Degree in Management gave her the skills to work with groups, facilitate communication and support those in need.
She enjoys traveling with her family, doing yoga and participating in different volunteering programmes.
Sabina Onet
EC 2 Teaching Assistant
Sabina graduated Communication and Public Relations (SNSPA, Bucharest), worked in advertising for a while and is now a Nursery Teacher Assistant in our school. She has several communication trainings as well as the First Level Psycho – Pedagogical certification. Sabina believes that meditation and children are a soul nurturing combination.
Georgiana Tat
EC 3 Teacher
For the past years, Georgiana has taught in International schools in Cluj-Napoca and Bucharest. She studied at Babeș-Bolyai University and she has a master degree in British Cultural Studies. She knew from a really young age that she wanted to become a teacher. Her grandmother was a teacher and she inspired her a lot, as she did her teaching with lots of love for her students.
Georgiana loves teaching because the children's enthusiasm for learning makes every day they spend together and each topic they explore a new adventure. She believes children learn best when their natural curiosity is fostered and creativity is encouraged. Her goal is to encourage the students to love learning, to strive to achieve their highest potential, to be compassionate and responsible citizens, and to actively pursue a healthy lifestyle.
Edwina Apostol
EC 3 Teaching Assistant
Originally from the Philippines, Edwina lives now in Bucharest with her husband and her lovely daughter. From 2017 until 2020 she was an after-school teacher at Fundatia Camin Phillip, Bucharest, with expertise in organizing and implementing educational games and activities, assisting with homework assignments, and assisting students in developing good habits and behavior.
She has experience in working with children ages 6 to 10, she loves to teach and she is passionate about Arts and Crafts. She has a big heart for the small ones and very playful with children. She loves to travel and she always enjoys reading a good book.
Andreea Balan
EC 3 Teacher
Andreea was born in Bucharest and graduated Romanian Language and Literature from the University of Bucharest.
She has had various job experiences including restoration at the National Art Museum, eight years of advertising, and another eleven years of owning a floral design studio, but has realised her true calling lies in a more human-oriented domain, a professional path that reflects her values.
Andreea believes in a healthy, safe and secure environment, where children's individual needs are met and positive relationships with adults lead to a better learning process and progress. Freedom, patience and open-mindedness are the key elements which she has passed on to her children, and which she hopes to keep sharing on this exciting journey working with children in Verita school.
Fedora Torok
EC 3 Teaching Assistant
Fedora  graduated from the Romanian American University, International Tourism Economy faculty. She is an optimistic person and loves working with people. During her childhood she practiced gymnastics for 8 years.
Her first connection with teaching children was when she was 15 years old, when she had the opportunity to teach other children gymnastics. She worked in sales and in the administration field for a while. However when she had her two boys she discovered her passion for working with kids.
She believes that teaching children is one of the most rewarding and enjoyable jobs in the world. It's a great pleasure seeing them learn, evolve and become the brave, caring and responsible leaders of tomorrow.
Student Support, SEL & Special Educational Needs
Emily Marriott
SENCo (Special Educational Needs Coordinator), Year 11 SEL Teacher
Emily was born and raised in Adelaide, Australia. She has lived and worked in education in many different countries until deciding to focus on primary education. After obtaining her Bachelors in English in Oman, as well as completing her Masters in Inclusive education at the University of Edinburgh, she hopes to incorporate elements of inclusion for all students in a creative and kind environment. Emily focuses on inquiry-based learning as well as interdisciplinary teaching methods and is keen to utilise new technologies as soon as possible.
Andreea Alexandrescu
Social, Emotional and Ethical Learning Coordinator for Primary & Secondary
Andreea Alexandrescu is a Social Emotional Learning Programs Facilitator, with more than 10 years of experience working with children, parents and teachers in various roles: DIR/Floortime Provider, Learning Support Teacher, Social Emotional Learning Teacher.
Andreea holds an Advanced Diploma in Special Education from the College of Allied Educators in Singapore and has a bachelor degree in Special Education from Bucharest University, with a certification in Communication and HR Management.
She is also certified in DIR/Floortime: DIR 203 – Coaching Caregivers, Teachers, or Other Care Providers (with ICDL – Interdisciplinary Council on Development and Learning). Andreea is passionate about Floortime, Social Emotional Learning and Mindfulness, holding certifications from Rutgers University (Foundations of Social-Emotional and Character Development), Mindful Schools (Mindful Educator Essentials) and Emory University (Social Emotional and Ethical Learning). She is the proud mother of two wonderful teenagers and a passionate gardener :)
Marius Luca
Social, Emotional and Ethical Learning Facilitator
For more than 10 years he traveled far and wide in pursuit of climbing and human experiences through which he could get a glimpse of purpose and make meaning in life.
The quest outside turned out to be a quest inside. He started the inner journey through individual psychotherapy. He then joined a personal development group using the method of psychodrama to find balance and make sense of past experiences.
Marius explored various aspects of the mind by taking Consciousness Quotient Institute's course on human consciousness and development.
He graduated a 4-year Psychodrama group training program to throw more light on the human psyche, to understand and work with group therapy methods and to use the insights in supporting human well-being endeavors.
He found inspiration, a renewed sense of purpose and drive in life by graduating servicespace.org's 6 week Laddership program.
Marius is certified by Emory University, USA, as an SEEL (Social, Emotional and Ethical Learning) facilitator, who can train other educators in this state of the art curriculum, with the aim of introducing it to public schools in Romania.
Marius also holds a certification from Mindful Schools, USA, after completing the Mindful Educator course.
Marius taught Social Emotional Learning from 2016 to 2021 to children aged 5 to 16 and is presently engaged in Verita's mission to promote quality integral – mind and heart – education in a kind and compassionate school environment.
He is part of the Social-Emotional Learning team.
Ilinca Vlaicu
KS2 & Secondary School Counsellor & Y10 SEL Teacher
linca has graduated from the University of Bucharest with a master's degree in Clinical Psychology and shortly after, she obtained degrees in counselling and psychotherapy from the Romanian Institute of Experiential Psychotherapy. She started working as a shadow during her years in college and after getting her license, she began working as a family counsellor in different associations, volunteering in children's hospitals and teaching medical psychology at a community college.
Ilinca came to Verita because she wanted to focus on child development and also wanted to be part of a multicultural environment, having been brought up abroad, in Czech Republic and Sweden. She believes a healthy individual is the result of balance between one's own biology and the environment they are in – it is in this school environment she takes the responsibility to take care of children's mental health in any way she can. Her role here at Verita is to provide a comfortable, secure and resourceful space for both children and parents when it comes to school difficulties.
She is passionate about science and remains active in the academic community through various methods – she has published 5 scientific papers, is the co-author of a psychodynamic psychiatry book, and she has also spoken about occupational therapy at the National Congress of Psychiatry.
Currently, Ilinca divides her enthusiasm between Verita, her private practice where she offers psychotherapy and psychological evaluations, and her own association dealing with learning difficulties in children and teenagers.
She spends as much time as possible driving, getting exercise, traveling to exotic places where she can scuba-dive, and being out in the mountains with her friends, family and pets. She is a hopeless coffee enthusiast, a big fan of horror movies and bad TV shows.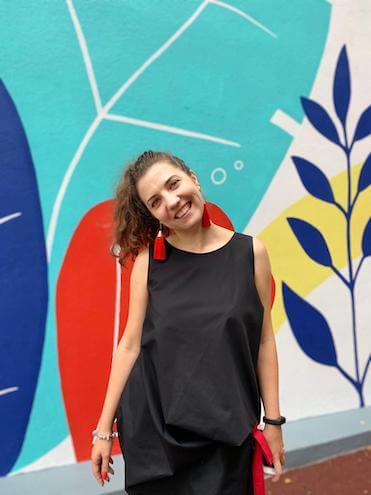 Andreea Neagu
Counselling & Special Educational Needs Collaborator
Andreea Neagu is the former School Counsellor from Verita, but remained as a collaborator for our Counselling and Special Educational Needs Department. Currently she works in her private practice as a clinical psychologist, integrative psychotherapist and play and drama-therapist. She has extensive expertise in child, adolescent, adult and family clinical evaluation and psychotherapy interventions.
She is also a psychotherapy trainer and supervisor at the Romanian Association for Integrative Psychotherapy.
She graduated from the Faculty of Psychology and Educational Sciences at the University of Bucharest. She  holds a Masters Degree in Evaluation, Counselling and Therapy of Children, Families and Couples but also has numerous post-graduate trainings in Integrative Psychotherapy of Adults, with a specialization of Integrative Psychotherapy for children and young people (graduated in a Romanian-British Training School), Systemic Family Therapy, Play Therapy and Drama-therapy (one training graduated in a Romanian-British PlayTherapy school and one training graduated in Canada) and other numerous short-therm trainings in parenting and child, adolescents and family mental health.
Because she is passionate about Social Emotional Learning and Mindfulness, she holds a Certificate in SEL and Character Development, at Rutgers University in USA and different trainings in Mindfulness in Education.
Ana Maria Abatacesei
Early Years & KS1 Counsellor
Ana-Maria graduated from the Faculty of Psychology in 2018. She has been working with children ever since, part of her work experience involved working with children with special needs. She can gladly affirm that being a teacher is the job that fits her like a glove. She loves working with children because it gives her a deeper sense of responsibility in helping grow and develop the younger generation.
She strongly believes that the teaching process should be approached in a holistic manner and involve a lot of kindness. She sees kindness as "doing what you can, where you are, with what you have." She also has a lot of interests and hobbies besides Psychology like sewing, gliding, dancing, sports, reading and painting.
Ximena Reyes
Ambassador for Intercultural Global Citizenship
Ximena is an Intercultural trainer for global leadership and intercultural management.
She has been leading the intercultural activities at Verita, has been a speaker for the Families in Global Transition summit, is Mentor in the PWN mentoring program, and has a Studies at Swedish International Red Cross Institute on Children's rights and Intercultural Communication at Shanghai International University.
Luiza Joita
School Operations Director
Luiza graduated from the Academy of Economic Studies in Bucharest, specialized in Tourism & Services and she worked for 15 years in marketing and events management. Her professional journey helped her develop abilities to plan, organize and manage complex projects. The interest for education started when her  two daughters reached the age for schooling and because she truly believes in Verita School's vision, she embraced a career change and accepted the challenge to join the Verita team. She loves to travel and spend time outdoors, as well as listening to music and reading a good book.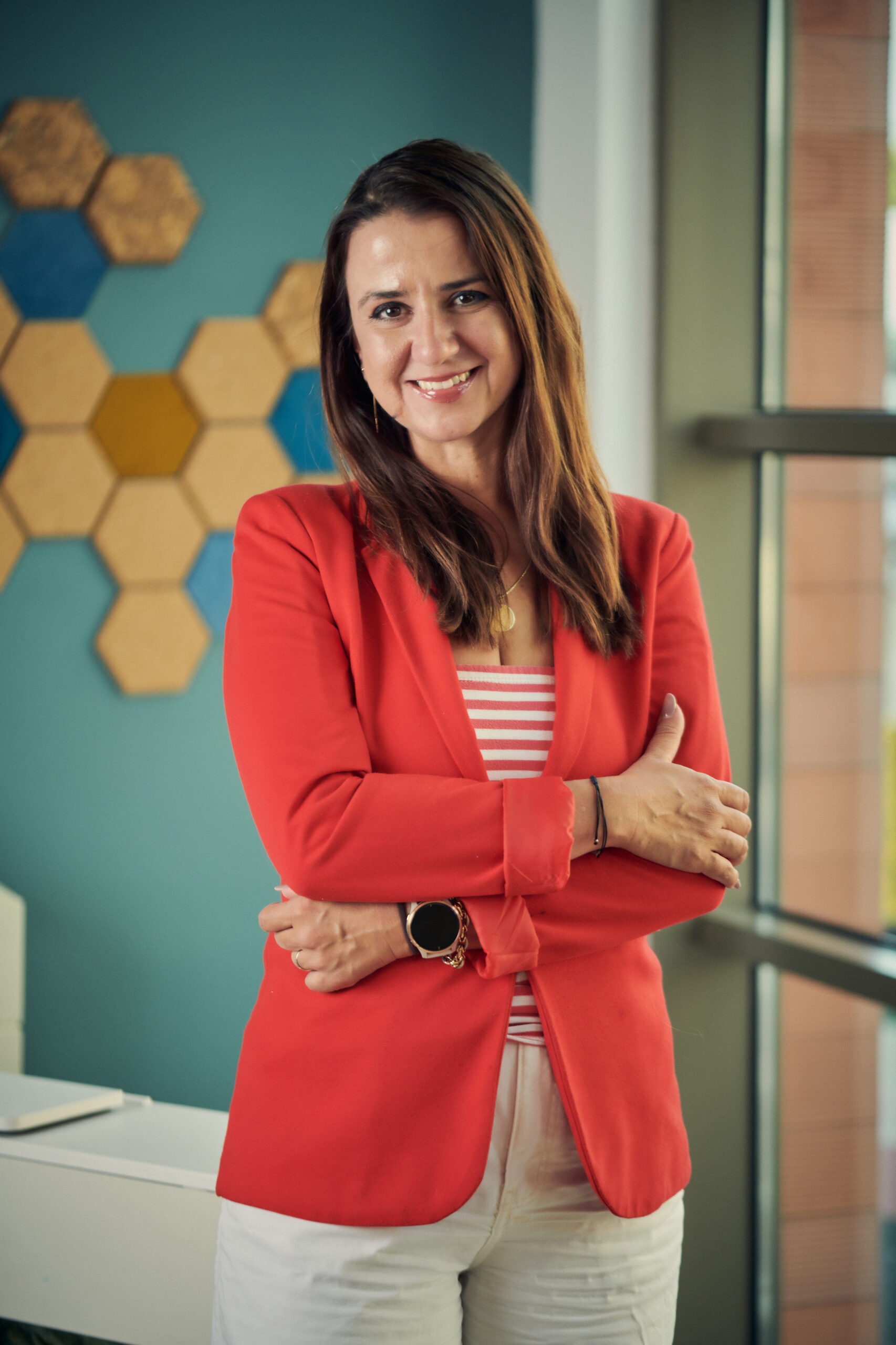 Olivia Musat
Admissions and Parents' Relationship Coordinator
Olivia graduated from the University of International Relations and has a masters degree in European Policies. Throughout the years she has worked for many important companies in the Sales and Marketing field as well as in Customer Care.
Ema Nasta
Project Coordinator for Extra Curricular, Transportation & Field Trips
Ema has a degree in International Business and Economics at ASE, Bucharest. Her childhood passion for traditional dance made her discover, through traveling, her interests. She enjoys being in a multicultural environment, working with people and getting comfortable with the uncomfortable. She believes that her professional journey at Verita suits her personality.
Tamara Eftene
Front of the House Officer
Tamara has always wanted to work in a place in which she like what she does, something that motivates her to become a better person, somewhere where she can feel at ease, surrounded by well-bred people and not feel a pressure on her shoulders when she comes to work.
Her first contact with Verita School was like
"A love at first sight"
, she felt from the begging that is the place where she wants to carry out her daily activity.
"Why? Because I found an optimistic environment, with beautiful people and a relaxed atmosphere that made me feel like at home."
She believes that all the staff are very communicative and helpful, "when you face a problem that you don't know exactly how to solve, you always find answers. All children, whether they are very young or big, are very well raised and the teachers every day make sure that they are also very well educated."
During the break, she likes to listen to some of the children playing the piano. "I am still impressed when you see that a child sings so well at the piano at such a young age and that they all speak English at an advanced level." She hopes that her journey at Verita International School to be a long-term one.
Cornelia Cacu
Head of Finance
Cornelia graduated Cybernetics, Statistics and Economic Informatics at the Academy of Economic Studies in Bucharest. Being passionate about numbers she joined, while she was still a student, an accounting company where she developed her accounting skills for several yeas, growing from Junior to Senior Accountant. She moved forward by working as a Financial Manager for a Romanian Publishing House, blending in her passion for numbers with the passion for words, reading and writing.
Because she believes that people are multitalented and multidisciplinary and when there is an appropriate environment they can develop their inner beauty and skills, she joined Verita with the confidence that it provides the kind of space that allows children and grown ups as well, to meet the most authentic and harmonious version of themselves.
Oana Ionescu Stoian
Head of Finance
Roxana Marchidanu
Accountant
Roxana was born in Braila, Romania, and she has been living in Bucharest for more than 15 years.
She graduated from the Law and Public Administration Faculty at the University of Spiru Haret. Before joining Verita, she worked as a substitute teacher and also held various administrative positions.
Roxana has a great 10 years old son, and she believes that parents can learn to be children with their children, and every day she gets a lot of joy out of learning new things as a mom.
Alexandra Ivan
HR and Purchasing Specialist
Alexandra graduated from Law University in Bucharest. After graduation, she worked as a freelancer with IT in Germany. She later became  a credit officer working on acquisitions. This became her passion, and her path to Verita. She applies her knowledge acquisition skills to her 9 year old daughter Anya, by making quality acquisitions for learning, studying and having fun. She knows that kids develop beautifully in a school like Verita, with the proper environment and learning support.
Livia Virtopeanu
Finance and Admin Officer
Livia graduated Political Science at University of Bucharest and after a couple of years in politics she entered the fascinating world of education. Having coordinated foreign language courses and afterschool activities for children, also being involved in event planning, Livia joined Verita team and family with enthusiasm.
Being a friendly and motivated person, she thinks there are no obstacles, but only challenges. Verita is the perfect place to grow and make friends, from students, to parents and colleagues and she is always there to help on financial and admin issues.
Mihai Cristea
Tech support
Growing up, Mihai was very curious about how things work and he has broken a few things around the house like a TV, a video player and a stereo, but that was before having a pc :D He was part of an informatics class early on, since the fifth grade and continued until the end of high school, although his bachelor's degree is in economics. He has worked in IT or IT-related field for the past 15 years and he could see that he is passionate about technology. He is also passionate about music and travelling. His favourite quote is from Friedrich Nietzsche: "Without music, life would be a mistake."
Ciprian Bulmaga
DPO and SIS Coordinator
Cip was born in Curtea de Arges, Romania and has been living in Bucharest for more than two decades. He graduated from the University of Bucharest with a BA in Communication and Public Relations and drove inspiration from working with children. He has been a substitute teacher and held various assistant administrative roles in a school environment. Cip is happy and passionate to help people around with troubling less over the use of technology, a huge math and science fan, a lover of fiction, and also a very proud father of three wonderful kids.
Viorel Cervis
Site Supervisor
Viorel is a longer serving member of the Verita family as he has been working with our Foundation for the last 3 years. During this time he was also supporting our Verita Organic brand handling both the customers and suppliers.
Ionela Obreja
School Nurse
One of Ionela's passions is to help people in need. That was the reason that made her study Sanitary School and become a nurse. Since she had her daughter, Ionela wanted to focus more on children and she joined Verita's team. She just loves to see children with a big smile on their face every day.
Lucian Tanasa
Driver & Security
Lucian is our guardian and driver, being trained as a gendarme. He enjoys serving and supporting, being a proactive and well organised person who enjoys being around children and fulfilling rigorously the tasks that he is offered.
Gheorghe Mocanu
Chef
Gheorghe, or '' domnul Gicu" as we call him, worked for 12 years in Eurohotels and is passionate about international cuisine, handball and soccer. Father of a 23 year old boy who he cooks for at home with the same dedication as he does in school for our children and staff. He enjoys working in an environment where people are supportive, communicate openly and collaborate to find the best solutions.
Cristian Ionescu
Chef
Cristian is our Chef Assistant, passionate about Romanian cuisine and helping our team with preparing the necessary ingredients for our healthy meals, maintaining cafeteria organised and serve the meals. A father of two himself is enjoying being around children and is looking forward to pursue his Chef accreditation.
Ana Gaspar
Pastry Chef
Before achieving 18 years of experience in the kitchen, Ana worked in a clothing and knitwear factory. She preferred restaurants where she prepared salads and desserts. Verita is the first school where she can give her input as a Chef and she finds cooking for the little ones is very interesting.
Gabriela Baches
Cleaning staff
Gabriela, or "Mama Gabi", how some of the children and staff members call her, has been with Verita since the very first day. She has dedicated her time and energy to take care of each and everyone and make sure the environment is clean and safe. She is passionate about her job and the children.
Magdalena Cosma
Cleaning Staff
Before joining Verita, Mady worked in a joinery factory. She believes that work enables people. This belief makes her happy to be part of the Verita team cleaning department who work hard to enable us all. She has no children of her own, but loves them and hopes that one day she will have some. She loves to make sweets and cakes and she is very good at it.
Alexandrina Pena
Cleaning staff
Vera Iascenco
Cleaning staff
Nicu Stan
Security & Maintenance
Ion Oprea
Security & Maintenance
Marius Pantea
Security & Maintenance
Ready to send your child on
the learning adventure of a lifetime?
We develop your child's talents, build friendly relationships in a safe environment, and make learning enjoyable. Verita is the best fit for you if you believe that your children are part of a generation that needs to be independent, creative and ready for the world.